Scout Visits Cookpad in Japan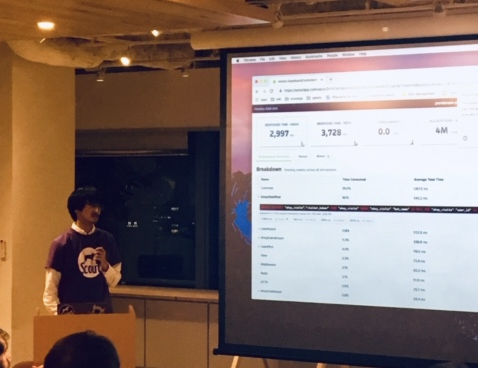 The Tokyo Scout team attended Rails Tokyo #37, a Rails focused get-together that is open to any Rails topic. It was hosted at the Cookpad office in Tokyo, which has some of the best Rails engineers in Japan. In this large open area there were tables, a screen for presentations and a large kitchen island. At these Cookpad events, Cookpad provides an extensive meal prepared in house by a chef!! After a great meal, we got into the presentations. The presentation titled "Database Performance for Ruby on Rails Applications" really caught our attention because this is right down our alley. The presenter discussed the importance of having an APM to keep everything operational… A serious coincidence!! One of the first events that Scout team in Japan attended talked about application monitoring!!
After the presentations there was show-and-tell. One of our developers, Hiro, felt an irresistible urge to talk about Scout!! He runs to grab his computer and lines up to present. He gave a short 3 minute presentation on Scout's features and UI. Overall the event was fruitful and fun. We look forward to attending more events and getting spreading Scout to Japan!!
Here is Hiro during the presentation: