The year at Scout - 2014 edition
2014 was a year of major updates to Scout. Some stats on what's been a fun year: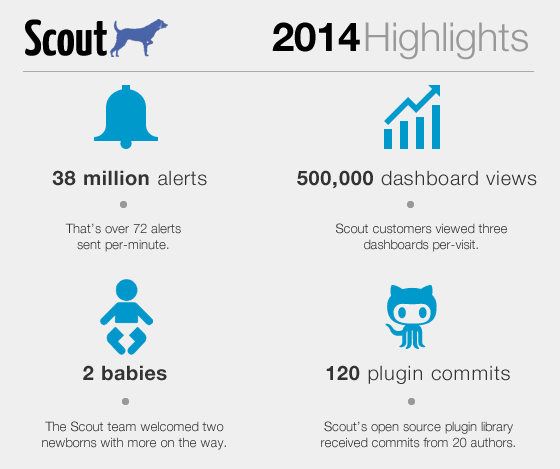 Product Highlights
Scout Realtime - In January, we released our open-source standalone realtime monitoring agent. Scout Realtime was the second most popular repository on Github during its release week (trailing Popcorn - we'll take the runner-up spot behind free movie streaming).
New Server View UI - In February, we released our new d3-powered server view interface and introduced automatic process monitoring. We think there's no better single-page view of your server's health.
New Dashboards UI - July brought our new dashboards UI. From quick ad-hoc charts to a persistent display on an external monitor, we think there's no better way to view your key metrics than your new dashboards.
New API - in September we debuted our new RESTful API.
New Realtime Charts BETA - in December we announced our new realtime charts experience. Viewing every-second-updating charts has never been easier.
Blog Post Highlights
2015
Thanks for all of your support, feedback, and hard-earned money in 2014. Our mission of lightweight, non-enterprisey server monitoring continues next year.