Using Gmail and Scout emails marked as SPAM?
Last week, our background task that sends out emails went down. When it came back up, the task sent out a large amount of emails, and it looks like some folks marked the emails as SPAM to clear their inbox. This is causing emails from Scout for some customers to enter their SPAM folder with messages like the following:
We're working on some technical fixes - the fastest way to ensure alerts from Scout don't die in SPAM:
Search for "in:spam from:scoutapp.com"
Select all conversations
Click the "More button" and select the "Not spam" option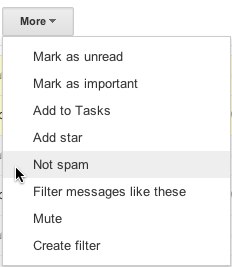 Additional options:
Add the scout notification addresses to your Gmail contact list.
Google Apps Enterprise customers can whitelist scoutapm.com in the Google Apps administration settings such that they don't go through the spam filter at all.