10 Popular Alternatives to AppDynamics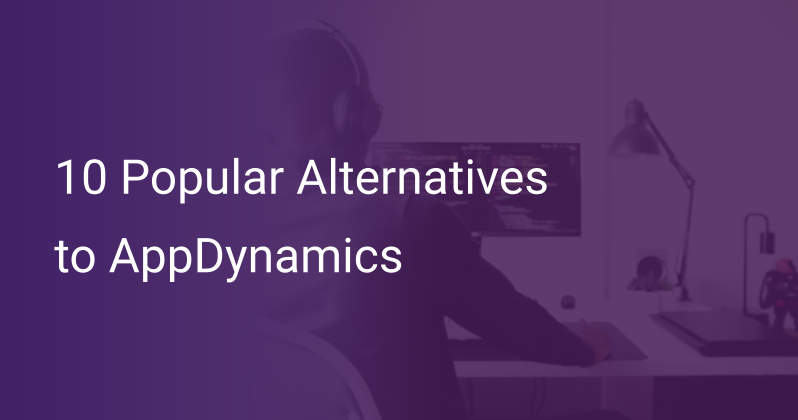 Application performance is one of the most important factors in determining your brand reputation, revenue, and authenticity in the virtual marketplace. There are several ways to monitor your application's health and performance. Some choose to do it the traditional way - manually. Others prefer to adopt an automated solution capable of monitoring an application 24/7 and producing useful visualizations all by itself. The most significant benefit of these solutions is that they do not require human intervention at any point - the tracking, logging, and visualization happens in real-time while the application is running.
One such solution is AppDynamics. AppDynamics is a prominent application performance monitoring tool (APM) designed to facilitate application performance and user experience according to business plans. AppDynamics offers several features - application performance monitoring, business performance monitoring, end-user monitoring, etc. - all packed into one convenient tool.
However, AppDynamics has its shortcomings too. This article will look at some of the key reasons you should move from AppDynamics and the best alternatives.
Feel free to use these links to navigate the guide:
Why Switch From AppDynamics?
As we discussed above, AppDynamics is a detailed tool. For nearly every monitoring use case you can think of, there is a feature in AppDynamics. While this is one of the strongest advantages of AppDynamics, it can make it overkill in some cases. Let's take a look at some of its prominent shortcomings that can push you to look for alternatives to the enterprise-level application performance monitoring solution:
Complex UI and Steep Learning Curve
AppDynamics offers multiple features, including browser-based user monitoring, end-user monitoring, back-end performance monitoring, usage statistics, and more. While the availability of these functionalities opens up many possibilities, it also adds to the complexity when using the tool. For a first-timer, navigating the interface is relatively tricky when compared to other application performance solutions.
The added number of available features also adds to the visual load for a first-timer. Even if activating a feature is hardly a few clicks away, it can get hard to find amidst a bunch of similar components. AppDynamics offers comprehensive documentation on helping beginners get started with the tool. However, the documentation has a steep learning curve.
Initial Setup
Because of the large number of features that AppD offers, it has a slightly complicated installation process. Once you get started with it, some users have reported a delay in the middle, which is when AppDynamics sets things up in the background. This delay can last up to an hour, breaking the flow and preventing you from using AppD upon setup.
Apart from that, users have said the installation documentation is hard to follow. As a result, many organizations tend to struggle to get started by themselves.
AppDynamics Alternatives: Comparing Features and Pricing
Having understood the reasons why you might think of moving away from AppDynamics, it is now important to analyze the available options at hand. There are hundreds of great application performance monitoring solutions out there, but not all of them pitch well against AppDynamics. The magnitude of capacity applications using AppDynamics face is on a whole new level, and very few APM tools can match it.
In this section, we will take a look at the top 10 alternatives to AppDynamics. We will throw light on their core features to help gain a comparative understanding of all available tools in the market.
Scout APM
The topmost contender in the list of alternatives to AppDynamics is ScoutAPM. It is extremely popular for its exceptional support for Ruby on Rails. It helps track down issues like N+1 database queries, memory bloat sources, etc., quite easily.

In terms of integration and ease of use, Scout beats most other APM tools fair and square. It has a very user-friendly interface that focuses on getting maximum work done. It also integrates with GitHub and Slack to help keep your team on the same page across all platforms.
Its pricing is at par with most current top APM providers and is lower than AppDynamics'. All in all, Scout is the perfect solution for monitoring your application no matter at what scale your organization is.
Core Features
The best features of ScoutAPM include:
Easy setup

: Scout has by far the most straightforward setup among all application performance monitoring providers. Scout's interface is also lightweight and easy to navigate.

Extensive logging

: Scout generates a high volume of traces that can help you get to the root of an issue very quickly. Scout also offers deep navigation through these logs to locate and fix issues quickly.

Identifying N+1 Database Queries

: Scout offers excellent support for locating application bottlenecks. Issues like N+1 database queries can be easily found and fixed with the help of ScoutAPM.

Affordable

: Scout's pricing model caters to the needs of organizations of all scales. Starting from a free no-credit-card trial to enterprise pricing options, Scout has something for everybody in the pricing department.

Better support

: Apart from ease of setup, Scout is also popular for its fantastic tech support. You can reach out to ScoutAPM with any issues you might face while using the tool and receive a quick and detailed response.
SolarWinds

SolarWinds offers its own application performance monitoring solution called Server & Application Monitor (SAM). SAM is one of the most popular alternatives for AppDynamics, and similar to AppDynamics, SAM delivers application performance monitoring for a wide range of applications.
SAM helps to replace multiple-vendor monitoring systems and gives access to detailed insights into the application's performance and availability. Similar to AppDynamics, SAM delivers all logs, alerts, and reports from all vendors into a single console.
One of the key features of SAM is the Real-Time Process Explorer. The RTPE feature allows users to access the metrics of their application by leveraging the web console, which displays data for both monitored and unmonitored processes. This provides the user with a central view of the application's performance and does not limit the medium through which the admin views this data.
Core Features
The most notable features of SolarWinds Server and Application Monitoring (SAM) include:


Performance Insights Out of the Box:

SAM provides insights and in-depth monitoring coverage for your applications, systems, infrastructures, etc., using over 1200 pre-built templates.
Quick and Simple Deployment

: No professional services or consultation is needed to get started with SAM. It is easy enough to deploy on your own.
Wide Range of Fully Supported Application Templates

: SAM provides application support for Windows, Linux/UNIX, and custom applications. This includes over 250 out-of-the-box application templates for monitoring all sorts of applications.
Integrated Remediation

: SAM's fully integrated control manager helps you fix common application issues by stopping, starting, and restarting critical app services from the SAM web console itself. This adds to the ease of use for managing application performance.
Customizable Dashboards

: With customizable dashboards, it is easy to represent data graphically where possible for ease of interpretation. You can also filter views by application/service and prioritize any particular application, node, or server that you want to.
Splunk

Splunk is a platform to aggregate and analyze data. Splunk automates the collection, indexing, monitoring, and alerting functions of application data collection. While it is a platform that offers various kinds of data management services, it also offers an APM service for monitoring and managing application performance data.
Splunk APM is the perfect combination of simplicity and variety. Powerful ML and AI-based engines drive the best of Splunk APM's features. Moreover, with great support for cloud and cloud-based applications, Splunk is an all-rounder for monitoring applications of all types.
Core Features
The main features of Splunk APM include:
Cloud Monitoring

: Splunk offers cloud monitoring services, helping international users to maintain visibility across the entire stack.

Easy Migration

: Migrating an application that Splunk APM does not monitor is seamless. You face a very low downtime during migration, and Splunk Consultants can help you at any step of the process.

Kubernetes Monitoring

: Splunk supports monitoring Kubernetes, an integral part of modern containerized applications. Splunk provides AI-driven analytics to identify and resolve issues in real-time with Splunk APM quickly.

Incident Response

: Splunk APM utilizes contextual alerts, machine learning, and streamlined collaboration to solve application performance problems fast and efficiently.
Dynatrace

Dynatrace is another popular AppDynamics alternative. It is an all-in-one tool that aims at providing advanced visibility supported by the latest Machine Learning and Artificial Intelligence technologies.
Dynatrace has an AI assistant called David that can automatically process more than 8 billion application changes in a day, resulting in highly precise metrics and answers. Dynatrace claims that customers can utilize David to help reduce overall outages, saving approximately 100,000 minutes. David is claimed to have a significant effect on overall system health.
One of the main features of Dynatrace is that it gives users access to a wide range of automation possibilities. For example, with Dynatrace, it is possible to discover processes running on a host and activate instrumentation for your stack. A utility called OneAgent guides you through this process.
Core Features
The main features of Dynatrace include:
Automation

: One of the most significant benefits of Dynatrace is the level of automation that it offers. Users can automate most tasks and leverage utilities such as David and OneAgent to assist in the process.
Detection and Diagnosis

: Dynatrace can help you detect and diagnose errors quickly. The tool monitors application performance across the infrastructure and identifies and remedies an issue.
Handling Big Data

: Dynatrace is one of the few APM tools that support big data analytics. This means that Dynatrace's AI is powerful enough to find answers and actionable insights to aid the work of DevOps teams, resolving issues before clients even discover them.
Integration with Machine Learning

: The integration with machine learning ensures that the automation and error detection are intelligent and error-free.
New Relic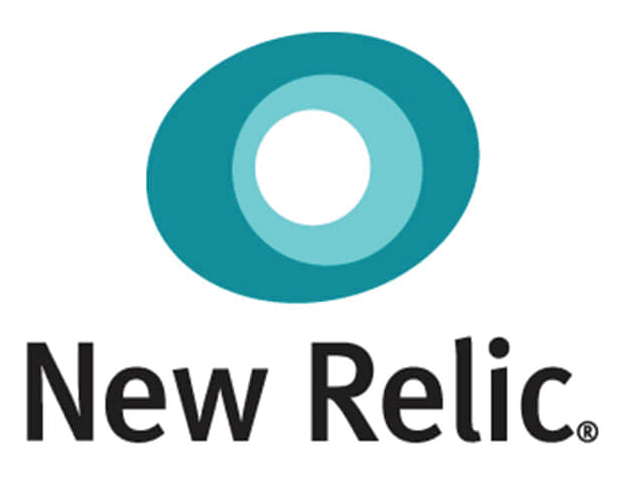 New Relic APM provides the ability to drill deep into the application for performance-related problems and their solutions. New Relic identifies itself as an observability solution and does justice to the title by providing an extremely detailed visualization of the complete application stack.
It supports languages like Java, .NET, Python, Ruby, and PHP. The tool also provides monitoring for mobile apps, advanced browser performance details, and infrastructure monitoring.
New Relic offers easy-to-set-up real-time instrumentation and analytics, helping to provide a clear understanding of the application performance. Apart from the ready-to-use resources, New Relic is flexible enough to accommodate any custom changes that a user may want to suit application requirements better.
The in-depth statistics and data collection allows New Relic to offer close competition to AppDynamics.
Core Features
The main features of New Relic APM include:
Detailed Analysis of Performance

: One of New Relic's fundamental features is to provide an as detailed analysis of the application as possible. With the option to monitor the insights in real-time, tracking and debugging issues is a piece of cake!

Code-level Diagnostics

: New Relic offers a powerful ability to analyze errors by tracking them down to the line of code causing them. This helps engineers isolate causes of errors easily and hence save hours of manual analysis.

Cross-application Tracing

: If your monolith application divides into hundreds of smaller applications, you can still use New Relic to map the applications and dependencies together and gain a top-level view of the applications' performance.

SQL Query Analysis

: New Relic also collects transaction traces, SQL queries, and much more to help in identifying the bottleneck in an application. You can also use the SQL query analysis to identify leaks and bloats in an application, which can eventually save you a ton of money.
Stackify Retrace

Retrace is an APM solution offered by Stackify LLC. The solution supports applications built on a vast range of frameworks, including .NET, Java, and others. It helps users quickly identify which part of your stack is resulting in a bottleneck.
Retrace houses features like detailed logging, which can help you provide an aggregated view of your application's statistics. You can view and search through these logs from one place, which boosts the quality of the analysis. Additionally, you can navigate from one log statement to a complete transaction state, which means that you never reach a dead-end while navigating through your app's logs.
Retrace helps to view logs and exceptions side by side, which eases the debugging process and reduces the resolution time for the bugs.
Core Features
The most important features of Stackify Retrace include:
Powerful Logging: One of the most significant selling points of Retrace is the highly interactive logs and traces that it provides. Navigating between the logs is a breeze, and you never lose track of any issues.


Improved Application Performance Monitoring

: With features like Apdex user satisfaction, identifying slow dependencies, and tracking deployments, Retraces takes monitoring to a whole new level.
Lightweight Code Profiling

: Retrace can provide developers with code-level insights along with the usual logging. It is smart enough to identify all frameworks and dependencies automatically.
Exceptions Visibility

: Apart from identifying crashes, Retrace can also help you identify exceptions, both fatal and non-fatal. You can then compare exceptions side by side with logs to identify and fix issues quickly.
SumoLogic

Sumo Logic is a cloud-native hardware data analytics service for log management. It offers complete coverage for hardware and application monitoring problems and does a great job at both of them.
Sumo Logic keeps the cloud in mind, meaning that integrating Sumo Logic with cloud platform providers like Amazon Web Services (AWS) and Google Cloud Platform (GCP) is much easier than other tools. Due to its cloud-native nature, Sumo Logic is highly scalable, and there is no need to update the tool constantly.
Getting started with Sumo Logic is relatively more straightforward than with other application performance monitoring tools.
Core Features
Some of the main features of Sumo Logic include:
Centralized, Detailed Analytics

: Sumo Logic offers more than 150 applications and integrations that make it easy to aggregate data across the stack and down the pipeline of your application.

Machine Learning Powered Analytics

: Identifying and predicting anomalies in real-time with outlier detection helps identify issues before they scale up and your application shuts down.

Security

: Best-in-class security technologies, rigorous security processes, and daily updated encryption keys protect user data.

Customizable Interface

: There's increased collaboration and integration with the help of a shareable dashboard, searches, and reports.
DataDog

DataDog is another top-class APM solution that offers excellent full-stack visibility into applications. The DataDog APM enables isolating and analyzing dependencies, removing bottlenecks, and increasing code efficiency to optimize the application. DataDog's traces are highly detailed and correlate seamlessly with browser sessions, logs, profiles, and much more, giving users complete visibility into their application's health across all instances of the application.
DataDog offers robust user experience monitoring and enables developers to keep an eye on transactions, timings, and more. It has an excellent system of notifications across the entire application stack. The customizable dashboards can provide visibility when needed.
Core Features
Some of the main features of DataDog APM include:
Powerful Insights

: The main selling point of DataDog is the highly detailed and valuable insights that it offers. Features like anomaly detection are a click away, and the Dash Studio interface enables utilizing these insights properly.

Enhanced Data Filtration

: DataDog takes data collection up one level by allowing users to collect desired metrics only. You can even modify the settings to send notifications based on events of any priority.

Improved Collaboration

: Working on a project with your teammates is one of the best experiences at DataDog. It offers a wide range of collaboration features to support remote teams better.

Machine Learning Powered Alerts

: You can access intelligent services like machine learning-powered alerts on higher plans. The system identifies alerts smartly and only notifies when needed.
Raygun

The Raygun software intends to fundamentally change the traditional error management process. Raygun aims at making it easier for software teams to find and resolve errors. The tool offers many features that include error and crash reporting, real user monitoring, application performance monitoring, customer experience, and much more. Raygun keeps developers and businesses in mind and provides the best of both worlds.
All of Raygun's plans include unlimited dashboards, deployment tracking, and user experience monitoring. The complete suite of Raygun's tools provides the user with detailed real-time visibility into the health and performance of their applications.
Core Features
Some of the main features of Raygun include:
User, Session, and Deployment Tracking

: Raygun's wide variety of tracking functionalities help users monitor every application aspect.

Powerful Filtering

: With inbound filters, users can choose to filter out errors from the main list based on IP Address, Machine Name, HTTP hostname, etc.

Detailed Insights

: Insight is a feature offered by Raygun that helps users test each page of their application through 20 usability and performance rules. These rules provide actionable feedback to speed up and enhance the user experience.
Zenoss

In the line-up of AppDynamics alternatives, Zenoss is more than just a simple application performance monitoring tool. It offers cloud monitoring, container monitoring, storage monitoring, network monitoring, and much more. It allows users to monitor multiple servers and resources as part of one complete IT stack, consisting of cloud-based and on-premise infrastructure alike.
One of the reasons why Zenoss is popular is that it combines insights from your on-premise, cloud, and virtual infrastructures into one common source of data to provide you with complete visibility into your project's entire ecosystem. Zenoss can automatically detect issues impacting your application at any level in your stack, helping DevOps teams resolve issues faster and maintain high service availability.
Core Features
The main features of Zenoss include:
Comprehensive Network Management

: Zenoss helps teams look into their network health along with their application health, ensuring that no error goes undetected, whether it's in the code or the infrastructure.
Complete IT Visibility

: As mentioned previously, Zenoss offers an entire ecosystem of monitoring tools to help you look into every aspect of your IT tech stack, meaning that you do not need to look for multiple tools to monitor your complete setup in detail.
Simplified Dashboard

: Even though Zenoss offers a huge variety of features, it still contains simplified dashboards to easily help users navigate vast amounts of stats.
Choose the Right AppDynamics Alternative for Your Business
As long as user-friendliness and cost-efficacy are concerned, ScoutAPM is the way to go. It offers a whole new level of simplicity and ease of use over AppDynamics' complex interface and dashboards. It also matches the quality of experience with its fair pricing model and wide range of features for monitoring your applications inside out. You can try out Scout for a 14-day free trial (no credit card required).
In this article, we took a look at the primary shortcomings that users face when using AppDynamics as their primary application performance monitoring service. Then, having understood the requirements of users moving away from AppDynamics, we analyzed ten of the most popular alternatives to the application performance monitoring tool and finally concluded our discussion with a recommendation of Scout, our own application performance monitoring solution that fits our use-case perfectly!
For more in-depth content around web development and a reliable tool for optimizing your application's performance, navigate through our blog and feel free to explore ScoutAPM with a free 14-day trial!