Biggest Mistakes Companies Make When Evaluating & Purchasing APM Software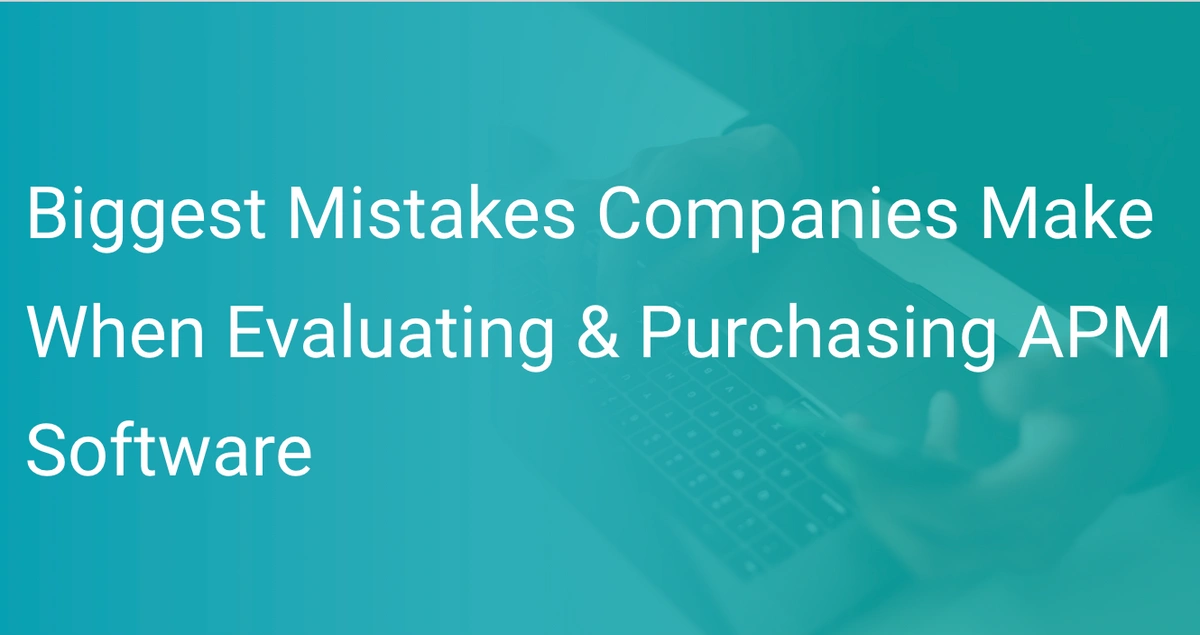 Most modern companies that offer web or mobile apps use APM at some stage to enhance their growth. APMs help you to understand what's going on inside your app. It helps you know when something breaks, and it also helps you learn how to make sure it doesn't happen again. However, choosing the right APM solution for your product is complex. If you select the incorrect tool, you may discard it because it will not enable you to meet your observability objectives.
In this guide, we will take a look at how to purchase APM tools the right way. Feel free to use these links to navigate the guide:
What to Look for in an APM
Before we describe what you shouldn't do, let's talk about what you should do. Here is a quick list of things you should look for when purchasing an APM.
Features that serve your goal

: A solution as complex as Dynatrace's might not fit the needs of a small-scale application. Similarly, a basic solution such as Jaeger or Zipkin for a large-scale app might leave you wanting more. More often than not, each tool supports its unique set of

metrics

, and you need to choose the one that provides accessible monitoring for the metrics you need for your app.

Advanced features like Root Cause Analysis

: While basic metrics and alerts are essential to any APM setup, some can benefit from advanced features like Root Cause Analysis and AI-based automation. Make sure to research these features and opt for a tool that offers these if they fit your purpose.

Easy setup and simple learning curve

: If you are new to the world of APM tools, you are better off with a tool that's simple to set up and use so that you can devote your full attention to finding the right metrics and making good use of the APM data, rather than learning the quirks of the tool.

Wide range of third-party integrations: A tool that offers a wide range of third-party integrations will make it easy for you to collaborate with your team effectively and be more convenient to use than one that does not offer integrations.

Good customer support and user community

: Lastly, having an extensive user base of the tool that you can rely on to solve common problems is always good. Active and helpful customer support is essential for more complex and rarer problems.
Common Mistakes when Choosing an APM
Now that you know what you should look for when choosing an APM, here is a list of common mistakes that people make doing the same.
Not Knowing What You Need
Many new business owners enter the APM game without knowing what they want. There is no one-size-fits-all solution, and there are many delicate details of app performance to cover at once. It would be best if you first worked on figuring out your APM strategies and then looked for a tool that offers features that will help you.
Decide on the metrics crucial to your app's growth, and figure out if you want a cheaper barebones solution (like Prometheus or SigNoz) or a managed solution that's costly but takes some workload off your shoulders. Choose if you wish to set up a reactive monitoring setup that only focuses on reducing downtime. If you have the funds and the drive to set up a more comprehensive, proactive strategy that involves fixing problems as they arise, identifying their underlying causes, and putting systems in place that lessens the likelihood that they will happen again. You will likely end up with the wrong tool without answers to such questions.
Not Looking At All Available Options
Many companies hesitate to go all out on market research when purchasing APM software. While it is tempting to go with the option Dan from engineering recommends, Dan might not know that a more efficient tool for the same use case might exist. This is why you must thoroughly research all available APM tool options before choosing one.
There's a lot of content on the internet (like this one) around the top and upcoming APM tools, and that would be an excellent place to start. Look for reviews, testimonials, ratings, and product impressions on G2 and Capterra. Take a couple of tools for a test run if unsure about something. But don't decide until you are confident that you have explored every reasonable alternative.
Mismatch Between Data Collection and Usage
This goes hand in hand with the first mistake of not knowing what you want. Even when people carefully select the tool, they look at how many ways the tool can collect data (or how many metrics it can support), but they don't have a plan to do anything with all this data. So naturally, people end up with a massive disconnect between what they instrument and what they do with the generated data. This eventually leads you to a situation where you are overutilizing your instrumentation and data storage resources and underutilizing the potential of the collected data.
Make sure to carefully plan what you intend to do with your APM tool, and act on it once you reach the implementation phase after the purchase. An underutilized tool will only end up burning a hole in your pocket while not doing what it was truly meant (and purchased) for.
Use Cases for Application Performance Monitoring
Multiple use cases for APM make it a crucial asset to any software development and deployment setup. Here are a few of those:
Monitoring health

: One of the primary use cases of APM is to help you monitor the availability of your application and ensure high uptime. Most APMs can alert you when a part of your system goes down and help you understand what went wrong.

Resolve Incidents Quickly

: If you work with a high-paced deployment routine, you will often accidentally ship code with bugs. And when your users receive such a version, you will encounter downtime incidents. This is followed by a frenzy of an all-hands-on-deck situation where you try to mitigate and resolve the issue. Your APM solution can come in handy here if it can provide you with features like Root Cause Analysis and tying

anomalies to endpoints

.

Predict App Health Trends

: APM tools can also help you to predict the health trends of various components and other app metrics over time by analyzing past performance data. This can often lead to fixes that prevent possible downtimes from happening in the future.

Analyze End User Experience

: Application monitoring is much more than fixing issues and preventing them from happening again. It also includes ensuring that your end-users are receiving the experience that you intended for them. Most APM tools enable you to do this with features like session recording and user journey mapping.
Save Time and Money with Automated Monitoring
While APM tools and platforms are often used interchangeably when discussing application health, they are pretty different. APM tools are independent, standalone tools that can help you do a particular task, like tracking a host's CPU usage or monitoring an endpoint's performance. On the other hand, APM platforms are a set of solutions that help you do multiple tasks in the same place.
APM platforms often employ automation to help you connect multiple tools and set up workflows that can help you do simple yet powerful tasks like sending an alert when CPU usage goes above 80% or tying an incident with its source code and identifying the right developer to contact. This is why you should prefer automated monitoring. Most APM providers offer multiple APM tools and can help you quickly get started with automated monitoring.
Best Practices
Here are a few things you should keep in mind when opting for an APM tool:
Look for extensive support for third-party integration

: As mentioned in this article, make sure to opt for a tool that integrates with the rest of your toolkit (and

other forms of monitoring

) well. This will not only make it easy for you to work comfortably in the tool of your choice and receive alerts, but it will also help you create complicated workflows and automation that will save you a ton of time.

Understand The Value of User Experience

: Don't get all caught up in just the numbers. A crucial part of application monitoring is understanding how well your users can use your app and get what they want. Prefer tools that support user experience monitoring, and make sure to make it a part of your APM strategy first!

Try Out Your APM Strategy Before Implementing it System-Wide

: Don't settle with a tool just because it looks good on paper. Try to set up a Proof of Concept (POC) with a small part of your app and the APM tool you like to understand how it works and whether it will be able to solve your problems.
Conclusion
Purchasing an APM tool is not something you'd do every day; therefore, you should take special care to try everything that can help you decide on the right tool for your use case. This guide showed you some mistakes people often make when choosing the right APM tool for themselves. You should also check out Scout, a popular APM platform that offers solutions for all applications and across tech stacks to help you set up a complete observability solution. Feel free to try out Scout with a free 14-day trial.