Comparing 7 New Relic Competitors in 2021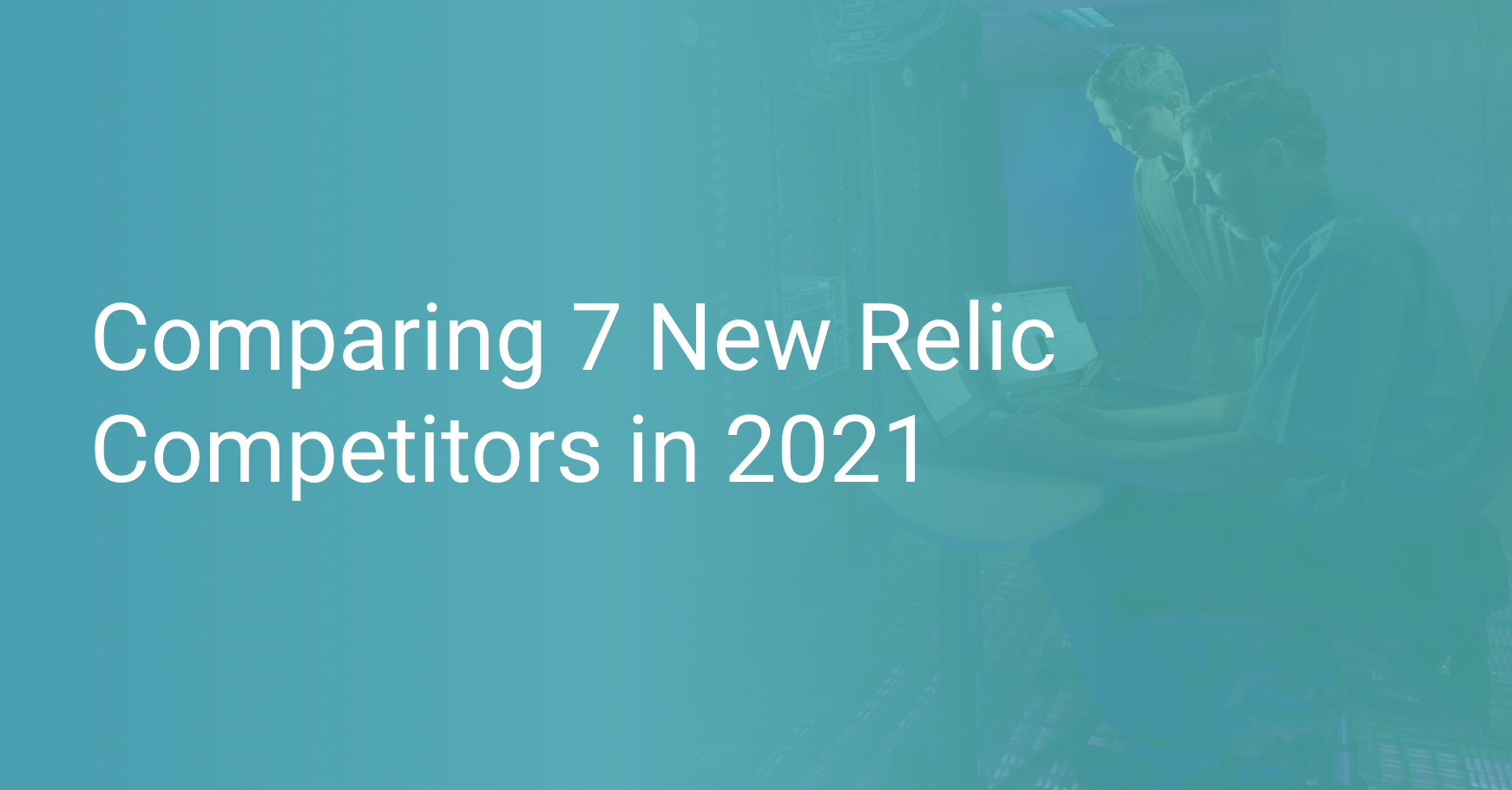 Application performance monitoring tools, or APMs, help give developers feedback so they can understand whether their programs are working the way they had planned for their users and clients. It also provides information about the software's quality. Most DevOps teams use these tools throughout the software development life cycle. This way, they make sure that they cover their grounds before releasing software into the market. Therefore, APMs are useful tools for developers that give them a sense of understanding of their projects before and after release. This way, they can continuously maintain and improve the software or application.
Primarily, APMs provide the following services:
24/7 Monitoring of microservices, infrastructure, and websites.

ADTD: application discovery, tracing, and diagnostics.

Detecting issues through Artificial Intelligence (AI): this feature can assess where there is an issue and how the issue will affect other parts of the software. It will send you analytics that will help you make changes quickly and also fix issues faster.
APMs are needed so that development teams can easily work on fixing issues as soon as they arise. Sometimes, despite going through all the checks and balances to ensure that the code is working or not, issues can arise once the application deploys. When that happens, it can affect how the user perceives the software. How the developers react to issues also affects this perception as well. So APMs support teams in quickly alerting them to fix issues before a surge of angry customers costs the company their reputation, revenue, and productivity.
APMs are a developer's best tool to ensure that they know how their product performs by providing analytics such as business-impact, end user monitoring, and the code's performance through the AI assessments. It supports the developers by ensuring that their product works issue-free, and after the release, they can ensure that the user experience stays favorable.
One of the more popular APMs available in the market is New Relic. This article will discuss New Relic, its features and show you some of its alternatives. These alternatives give you a sense of what is available in the market, and they give you an idea of what tools you would want in order to have the best value for your investment.
Feel free to navigate the post with the list below:
What is New Relic
New Relic is a company that provides a popular APM tool used by many developers and companies to monitor their performance. Its approach on monitoring is both flexible and dynamic, making it considerably easy for seasoned developers to customize the tool to their needs. It is used by over 17,000 customers, with 50% of the companies on Fortune 100 using it as part of their workflow. Popular customers include Adobe, Trainline and Auto & General. New Relic was established in 2008 and provides a cloud-based software to support all technical needs.
The platform it provides supports developers to "build better software," which is their motto. New Relic One provides all the data that a developer requires in one place. It was not until 2013 that New Relic moved towards a SaaS (Software as a Service) business model. In this model, customers pay for services provided. The software they provide helps businesses respond faster, optimize better and build better software.
What is New Relic used for?
New Relic's platform is where you troubleshoot your stack. The platform provides three major features:
Telemetry Data Platform

: This allows developers to be able to look at operational data. It provides over 300 agents and integrations. In doing so, it helps you to be able to customize and compare data to make sense of it all. It boasts speed in responding to queries that you put up and provides real-time alerts, ensuring that you have

Data

Log Management

Analytics

Dashboards

Alerts

Full Stack Observability

: Using New Relic can help developers visualize, analyze and optimize their software stack on one single platform. It makes sure that you can monitor distributed services, your applications, and serverless functions. It provides you with complete visibility, giving you all the information you need about performance. This helps you understand what's going on in the infrastructure, containers, cloud resources, and clusters. All New Relic experiences are available on the platform i.e. APM, Infrastructure, logging, Serverless, Browser, Mobile, and Synthetics. This includes:

APM

Infrastructure Monitoring

Serverless Monitoring

Digital Experience Monitoring

Logs in Context

Applied Intelligence

: With the help of Artificial Intelligence, New Relic is able to detect, diagnose and resolve issues way before your customers find out. It is proactive, working actively to detect issues and explain anomalies. Since the AI can help you with diagnostics, and it will help you respond in time to all incidents that occur:

Instant Anomaly Detection

Automatic Root Cause Analysis

Integration with Incident Management
New Relic is able to integrate with many leading cloud providers such as kafka, AWS, Google Cloud, Microsoft Azure, making it easy for any company to start using New Relic immediately.
Why Switch from New Relic?

New Relic does have great features, but it's not ideal for every business's needs. There are certain things that New Relic needs to improve on. Many reviews mention the following drawbacks that come with using new relic:
Cost

: Since the pricing runs on a per month basis and your team's usage, it can add up to a lot annually. The features and billing methods are not as transparent as they seem. Because of this lack of transparency, customers have a tough time understanding what they are paying for.

Steep Learning Curve

: To use New Relic, many users online have mentioned that it requires a strong understanding of the data to understand the dashboards. This difficult user experience limits the kind of users to expert developers or New Relic aficionados.

Tricky Interface:

The user interface is tricky and challenging to pick up, making the transition to New Relic more difficult.

Granular Data

: some of the data provided by New Relic is not always highly detailed. This makes it difficult for users to have more information about how their code is working.
New Relic Competitors: Comparing Features and Pricing
It may be daunting to search for alternatives to New Relic because there are so many options from which to choose. In this article, we will share with you 8 other APM tools available in the market. Here are the features and pricing for some of New Relic's competitors.
Scout APM
Scout APM's philosophy is to be a developer's best friend. The service aims to be user-friendly and make finding problems easy so developers can focus more on their work. Since it's founding in 2009, Scout reduces developers' time on debugging so they can code and develop software. The proactive Scout agent identifies issues automatically and in doing so, helps show regressions in real-time. Scout's reliability and excellent support make them truly a developer's best friend.
Scout helps developers by troubleshooting issues before they can go awry. These are issues that developers and organizations would not want their customers to see. Scout APM can prioritize problems according to the needs of the user. It can effectively monitor Ruby, PHP, Python, Node.js and Elixir applications. Many DevOps teams prefer this tool and is ideal for any sized company from small to large.
Core Features
It boasts the following features:
It has continuous monitoring, which is always on with provision of intuitive dashboards. Scout displays data about endpoints, paths, users, and requests so that you can find out what is slowing the process down.

The tool tracks logs of events so that you can be aware of what is happening. It can point you to the developer you would need to contact if something has gone wrong with the code. This makes communication easier and more efficient because it would show which developer was working on the specific code.

Deep tracing logic capability allows you to identify the response time distribution for all requests.

It supports you with troubleshooting so you can find bottlenecks and identify areas with issues in the source code.
Dynatrace
Dynatrace is an all-in-one platform for observability, automation, intelligence, and security for modern dynamic clouds. This software intelligence platform supports developers to transform faster. Its focus is on cloud-based enterprises.
Core Features
Dynatrace provides support for infrastructure monitoring, applications, microservices, application security, digital experience, business analytics, and cloud automation.

Boasts the broadest support for multiple cloud platforms and technology

500+ supported technologies

Automated integration is available, easy and, open

Provides five groundbreaking capabilities, namely

OneAgent

PurePath

Smartscape

Davis AI, which also includes AIOps

Hyperscale

Deployment through Dynatrace is fast and flexible.
AppDynamics

AppDynamics is a platform by Cisco that focuses on being proactive and ensuring success for its users. Most of the clients for AppDynamics are businesses. It is an excellent observability platform that aims to accelerate digital transformation for companies by providing insights that they'll need. The service believes that for a business to succeed, they need to support IT teams. In doing so, the support they provide can give complete visibility, intelligent insights, and automated actions so that development teams can get to the issues as soon as possible. The automation and available data help developers understand their code's behavior better and create the best possible work.
AppDynamics uses AI-powered insights and visibility to help improve application and business performance of the application that the software team is developing.
Core Features
Agents and controllers are across the entire application's ecosystem and infrastructure. They collect data in real-time and inform developers of the application's performance.

It auto-discovers traffic requests and helps visualize performance.

It tracks business transactions, which are user-initiated requests like logging in, searching etc.

Using AI, AppDynamics detects issues and also reduces MTTR with root-cause diagnostics.

Developers can customize dashboards to make it easy for them to read the data that they need.

You can view the performance of the application once it deploys.
DataDog

DataDog monitors cloud-scale applications and supports developers by showing them analytics about their servers, metrics, clouds, apps, and teams in a single platform. Used mostly by IT and DevOps teams, Datadog is another SaaS-based, on-demand service. It can easily integrate with tools like Kubernetes, Puppet, Ubuntu, Chef, Bitbucket, and over 400 other tools.
Core Features
DataDog has the following features:
Extensive coverage for many popular technologies

It can deploy in any environment like on-location, hybrid, cloud, or IoT

It has customizable dashboards to easily fit most important metrics

It immediately alerts teams about issues as they arise

It can categorize and use tag-based search and analytics to scour through information

It provides effortless integration and deployment for the company

It can track information from the previous 15 months of metric retention

It provides metrics based on various processes, logs, application traces, and troubleshooting, greatly reducing miscommunications

It tracks the impact of processes through its Live Process monitoring
SolarWinds AppOptics

SolarWinds is a company that provides many tools for development teams to use. One of their services is AppOptics: a SaaS-based APM tool that mostly focuses on hybrid and cloud-native IT environments.
Core Features
It creates an auto instrumented application service topology map so you can see where there is an issue and how it will effect the code so you can pinpoint root causes

Performance monitoring

Full-stack visibility

Modern infrastructure monitoring, including AWS, Azure, and Digital Experience Monitoring

150+ Plugins and integrations
Stackify Retrace
Stackify's Retrace is an APM tool that proactively identifies issues in QA. Doing so supports development teams to continuously improve and observe applications in production environments so that they are aware of what is happening. It can identify bottlenecks and inform software development teams within minutes about these issues.
The Retrace APM provides a better understanding of user satisfaction with its own performance metric, which measures satisfaction, performance, error and server metrics. The monitoring, designed for insights, provides answers rather than questions. When deploying your software, you can also keep track of error rates automatically. It is able to integrate with many popular programming languages, cloud providers, and containers so you can easily implement the tool. Retrace wants developers to focus on projects that matter more, and not constantly waste their time tracking and tracing issues.
Core Features
Core features of Stackify's Retrace are as follows:
It aggregates all the logs in one place so that it makes analyzing data simple.

Monitoring on Retrace can study user satisfaction, track deployment, identify bottlenecks, and understand the health of the application.

Identifying exceptions in code is accessible and proactive on Retrace. Developers can view logs and exceptions side-by-side to track down issues immediately. It also calculates exception rates so that developers can re-strategize if necessary.

It is easy to retrace code because of its lightweight code profiling.

All metrics are in one place.

Developers can track deployments as well as automate deployment tracking through a CI/CD tool of choice.

Retrace can proactively enhance the performance of the application by combining front and backend monitoring.

It can integrate with .Net, Node.js, Python, PHP, Java, and Ruby stacks.
Elastic APM

Elastic Stack's Elastic APM helps developers monitor applications and software services. With real-time detection and monitoring, developers can easily make changes as soon as they're notified of any issues. It is one of the services provided by Elastic Stacks, which also provides Elastic Cloud.
Core Features
You can see the data in a single and powerful datastore, allowing you to view everything in one place.

Distributing tracing helps developers find errors efficiently.

Developers can build their own support or get support from the open-source community for full-stack technologies.

It is easy to organize data so you can visualize it to suit your requirements.

Elastic APM retains time-based data for as long as developers need and as long as they value it.

Elastic's AI can identify abnormal behavior such as slow response times so developers can easily fix the system.

Visualizing KPIs and service maps can display connections so you can track the work processes.

It can help hone into root causes by studying transactions.
How to Choose an APM Tool
APM tools are beneficial for developers. These tools support them by reviewing their code so that they can make sure that the code they are writing does exactly what it is supposed to. It also helps because companies and software development teams do not want their product to be bug-ridden. APM tools will have their backs both before and after deployment. That way, developers can focus more on coding, instead of spending time going back over their code to debug. When choosing an APM tool, make sure you keep these in mind:
What language support is it providing? What languages do your developers use?

What kind of cloud support is there and whether you need that or not?

Price, SaaS or on-premise deployment will help you with your budgeting as well

Ease of use is important. Most APM tools provide a trial period, so utilize those free weeks!

What kind of reporting and analytics does the tool provide?

Is the architecture scalable?

You also want to consider the security features available, and the kind of support the tools and the backend will be providing. Are the developers of the tool available to support you in time?




Make sure that when you are choosing an APM tool that'll be helpful for your developing team, so that it helps them work more effectively and efficiently.
Finally
While New Relic is a popular tool many development teams use these days, it's always a good idea to learn about similar tools to help you make a more informed decision to help your company grow.