DataDog Competitors: 9 Alternatives to Consider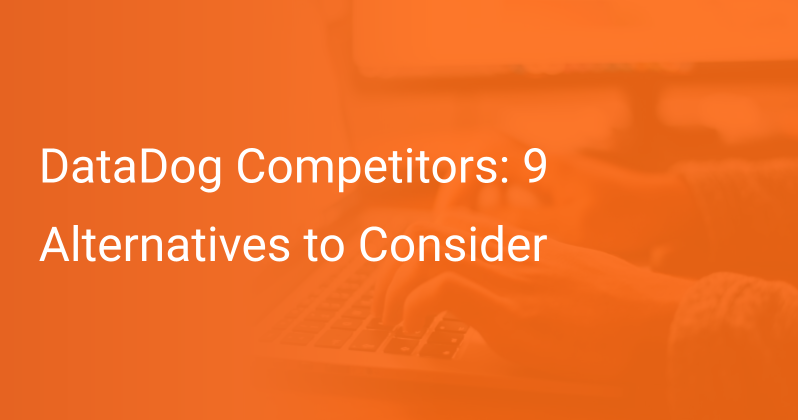 DataDog Competitors: 9 Alternatives to Consider
DataDog is a service that monitors cloud-scale applications. It is a platform used by developers of various information technology (IT) and DevOps teams. Through this service, they can define and regulate performance metrics. It was first developed in 2010 in New York by Oliver Pomel and Alexis Lê-Quôc, the current CEO and CTO, respectively.
Originally the service was written in Python, but as of 2018, it is in Go language. It was written from scratch with its backend constructed using open and closed source technologies, ranging from D3, Kafka, PostgreSQL, Apache Cassandra, and many more. DataDog is a software as a service (SaaS) or on-demand service, an increasing trend followed by many technology companies these days. DataDog's application program interface allows it to integrate other service tools to help developers with their work. It is integrated with Kubernetes, Puppet, Ubuntu, Chef, Bitbucket, and Ansible.
With DataDog, developers can see servers, clouds, metrics, apps, and even teams in one place. This way, it allows them to view, manage and keep track of systems, applications, services, and databases in one place. It lets developers integrate over 400 tools and services. Its integration includes Microsoft Azure, Red Hat OpenShift, Amazon Web Services (AWS), OpenStack, and even Google Cloud Platform.
It easily creates reports and aggregates on a single platform customizable to the user's requirements. This means that it is most suitable for businesses that require looking at a lot of different systems. It boasts the following features for potential clients to consider:
It has an infrastructure that gives extensive coverage of the most popular technologies

Can be deployed in any environment such as on-location, hybrid, cloud, or IoT

Customized dashboard to easily fit in all or most important metrics to help optimize environments making it easy to read

Provides alerts for any issues as they arise

Easily categorize and use tag-based search and analytics to scour through information

Effortless integration and deployment for the company

Tracking information from a history of about 15 months of metric retention

Provides metrics based on various processes, logs, and application traces and makes for easy troubleshooting, which reduces miscommunications

Allows live tracking of the impact of processes through Live Process monitoring
All this helps your organization collect data easily, giving you the information needed to make informed decisions while reducing errors in the process.
While it provides many features, DataDog is not the only monitoring service available out there.
Similar to having information about your organization's processes laid out clearly in front of you, you should also have good external knowledge of the system monitoring industry. While you know about DataDog, let us walk you through some alternatives that you can consider before making your final decision.
Feel free to use the following links to navigate this post:
Why consider Alternatives to DataDog?
As an organization, your choice of applications has to be governed by your understanding of your needs. It should then match the understanding with what features other software monitoring applications or services have. As important as having your company data at your fingertips, you should also have information about the services you're using to create more value for your business. Simply going for the one that you heard of is not enough.
Here are some of the reasons why you should be considering alternatives:
Many developers and companies consider it to have a steep learning curve. For users with less experience, it will take time to figure out the nuts and bolts of the program. DataDog thus only serves those experienced in understanding large amounts of data and have been in the business for long enough. The features are considered highly technical and can overwhelm new users. On top of that, it is difficult to find training information, making it difficult to retain users who may find it too much to handle.

The pricing of DataDog struggles with scaling. With the add-ons and increased number of hosts and devices, the software can become more expensive in the long run. With every feature added on, the cost per month increases
With this in mind, it is a good idea that you compare other DataDog alternatives to see what better suits your company and your needs.
Popular DataDog APM Alternatives
DataDog is not alone in the software monitoring industry. There are several other alternatives that you can consider. Knowing the competition will let you have a better understanding of which service actually is beneficial. This also gives you a fair idea of what the industry's trends are when it comes to providing various monitoring services.
Scout APM
Scout APM follows the philosophy of being a best friend of a developer. Their focus is on making it easy for developers to focus on developing and less on debugging since 2009. It provides quick and easy monitoring. It is also proactive by helping identify issues and showing regression in real-time, so developers stay on task. It boasts reliability as a core driver of services. Developers can use this application to troubleshoot and fix issues before the customers notice. Apart from identifying issues, it can also prioritize the problems according to the user's needs. It can effectively monitor Ruby, PHP, Python, Node.js, and Elixir applications, making it very popular among DevOps teams.
Core Features
Here are the core features available on Scout APM:
Monitoring is always on, with intuitive dashboards. This helps you find endpoints, paths, users, and requests to figure out what is slowing the process down.

Provides logs of events so you can keep track of what is going on. It also provides information on which developer in the team to contact across the processes to make communication efficient.

It has the capability of deep tracing logic, which can identify response time distribution for all requests. This is an especially useful tool to find out what is slowing you down.

Troubleshooting by identifying issues in source codes that create bottlenecks.

Metric retention is available for 30 days.
Dynatrace
Dynatrace is another monitoring software to consider. It is specifically designed for cloud-based enterprises. It is an agent-based platform, and once installed, has a full-scale view of a stack and can start working on the entire application's environment. This is immensely popular among retail businesses, transportation companies, emergency services, financial markets, and many government bodies to monitor and analyze performances of various applications. The company focuses on providing context to the data that they find, ensuring that operations can become autonomous and help companies better themselves. It does this by providing software intelligence to help companies maneuver through complex cloud solutions and improve their digital transformation.
Core Features
Here are some of the core features of Dynatrace. The all in one platform provides:
Monitoring of infrastructure environment

Various applications and microservices

Digital experience on various devices and platforms

Business analytics that are real-time, automated and integrated

Cloud automation

Causation based AI

Practical automated integration

Five capabilities in OneAgent, PurePath, Smartscape, Davis AI and AIOps and Hyperscale
Raygun
Raygun opens up insights into how an application's users would be experiencing the software before it is released. It is an application monitoring platform for web and mobile apps. The tool aims to help users build high-performing software. It claims to support teams that are focused on customer experience. Raygun is very popular and is used by companies like Coca-Cola, Samsung, Microsoft, and Target.
The cloud-based platform focuses on three main aspects: APM, crash reporting, and real user monitoring. This provides a company with a complete view of what is going on. Furthermore, this helps them create better experiences for the app users, not just during the design stage but also during the maintenance stage.
Core Features
Raygun's features include:
Monitoring every single user session to help improve the performance of the software. While it actively traces issues in the system before releasing updates of codes, it also helps analyze user experience. This is extremely helpful because it can help understand how users are interacting with the company's application and also strategize how to improve it.

Quickly find out where something has gone wrong and analyze what needs to be done to fix it.

Its APM services, which can identify bottlenecks in the internal servers and also look into the codes to find errors
The more traces, sessions, or events your company requires, the more the prices will increase per month. Raygun also provides volume discounts if you require more than 10 million traces, sessions or events respectively.
New Relic
New Relic is another DataDog alternative that provides an all-in-one platform with its New Relic Explorer. It's focus is on three key areas, telemetry data platform, full-stack observability and applied intelligence. This provides unprecedented visibility of all the data for the entire stack. The platform focuses on helping developers build impressive and better software, with a focus on observability. The point is, the more data that is available, the better informed you would be to respond quicker and optimize more efficiently. Its applied intelligence feature boasts instant detection, diagnosis, and resolution of issues in real-time.
Core Features
With its three main areas of focus here are the features New Relic provides:
Telemetry Data Platform

Full Stack Observability

Applied Intelligence
SolarWinds
SolarWinds is an IT management and remote monitoring tool aimed at supporting IT companies. Companies of any size can use it. The company provides many products that can help IT companies become the best at what they do. It creates products that are specific and focused. So you know what you are looking for when you are using their products.
Core Features
SolarWinds has a wide array of products and services. Its focus is very specific, i.e. IT. companies. The products are divided into categories of
Network Management

Systems Management

IT Security

Database Management

IT Service Management

Application Management

Managed Service Providers
These help with tracking traffic, optimization, data analysis, and detection of issues.
Splunk
Splunk is a Data-to-Everything platform, according to its website. Splunk believes that it can help organizations become more resilient by making companies that work with it to detect and fix problems in real-time. This way, companies can immediately fix issues before they go out of hand. Since cloud-based applications are now becoming more of the trend, Splunk attempts to accelerate it by helping companies manage their cloud data to speed up the innovation process and keep all the data secure.
Core Features
Here are some of the core features of Splunk
No data limits for its services

Security services ensure modern and optimized defense systems that are based on industry-leading information.

Provides services to every kind of industry so it means they are highly equipped to deal with customer needs for becoming more and more cloud-native.

Provides infrastructure monitoring, application modernization, and incident response for DevOps

Provides infrastructure monitoring, business and IT service monitoring and AIOps for IT Operations

For Security, Splunk understands risks by figuring out issues and also prioritizing them. It reduces the time between every security investigation to make it more effective and automates reports, with much more simplified compliance guidelines.
Appoptics
This APM falls under the umbrella of SolarWinds. While SolarWinds has other APM tools, this one is worth mentioning separately. Being an APM, Appoptics provides metrics that you can use to trace issues down. It looks at latency, rate of errors, monitor host and transactions activities.
The key areas of focus for SolarWinds' Appoptic is to provide monitoring of infrastructure, support and troubleshoot and to optimize the data.
Core Features
The core features of Appoptics are:
It supports Node.js, Go language, Ruby, php, Scala, Java, Microsoft .Net, and Python.

It has integrations and plugins such as Apache, AWS, Graphite, Haproxy, etc.

It has a dashboard that focuses on observability and shows all the services related to tracing and APM.

Continuous visibility of the company's hosts, serverless environments, and containers.

It helps to troubleshoot distributed tracing, exception tracking, and live code profiling.

It supports multidimensional tags to help manage data and information easily and according to your needs.
Stackify's Retrace
Stackify's Retrace is a tool that goes beyond general APM. The platform aims to give developers all the tools that developers need. Apart from APM, it provides centralized logging, profiling the code, tracking errors, app and server monitoring, and real user monitoring. This DataDog competitor also allows integration with your already existing tools.
Core Features
Here are the features that Retrace boasts:
Ensures that you can view all your logs in one place. These logs are aggregated across every application and server that you use.

You can configure and keep track of automated log queries

It makes tracking and monitoring every app and server metrics easily through dashboards and provides a summary for quick feedback.

It is integrated and supports several languages such as Node.js, Python, Java, and Python. It also supports frameworks such as SQL Server, PostgreSQL, MongoDB, Oracle, Redis, Azure, Elasticsearch, AWS, and many more.
Elastic APM
Built on the Elastic Stack, Elastic APM is a system that helps you monitor software services and applications. It happens in real-time which helps developers make changes immediately. It is part of Elastic's need for the tool to provide a unified observability of the insights that organizations would need.
Core Features
It allows retention of time-based data for as long as you want and value

You can organize your data and create visualizations as you require

Distributing tracing is available so that you can dig out errors easily

Elastic APM can help pinpoint root causes of software issues by studying transactions. It identifies dependencies and provides critical metrics so you can fix the issues immediately.

It uses Service Maps to help create a visual representation of the way services are connected. You can view their KPIs and visually look for potential problems.

Through machine learning, it can help identify abnormal behavior or slow response times so you can immediately work on improving the system.
Choose the Right DataDog Alternative for your Business
If you are working in the software development industry, it is important to have application performance monitoring. It helps reduce the risk of releasing an app or software that is marred with errors. APMs are an easy way to track errors and issues for developers so that they do not spend a majority of their time rechecking their code. Instead, this gives them time to focus on building better apps, or improving on the current software.
If you are unsure about the number of choices, it would be a good idea to try a free trial of your preferred app. Scout APM, for example, allows you to have a 14-day trial without providing your credit card information. You can even contact the software companies by sending them a query to better understand their services.