Datadog vs. New Relic vs. Scout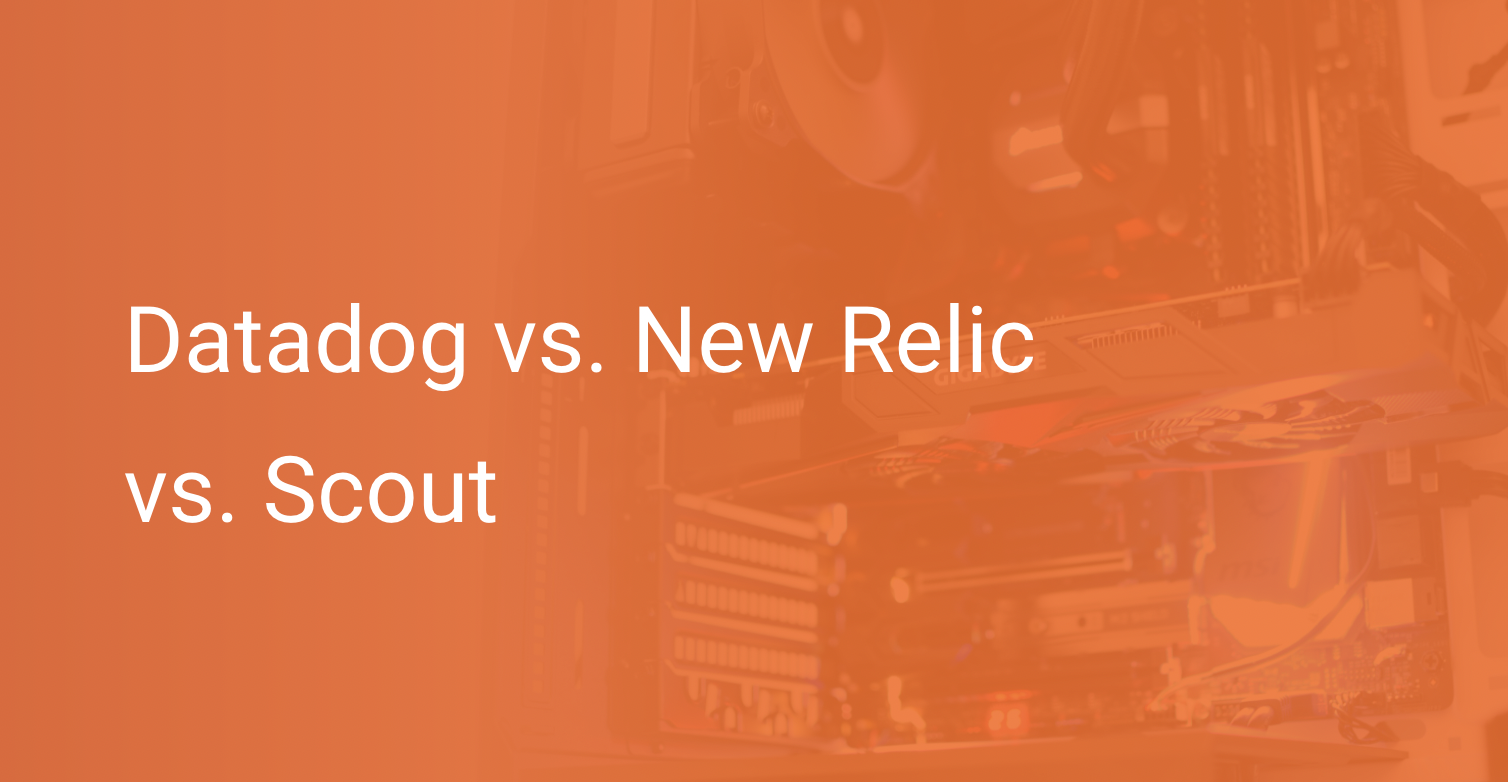 Application performance management is one of the essential steps that every business must complete to ensure that their products work as desired and give the best experience to the end-users. There are many tools for application management available in the market, but if you want to select the best one for your business, you would need to try out each tool one by one. To make your hunt easier, here is a comparison between Datadog, New Relic, and Scout, three of the most popular application performance tools right now.
We will look at various parameters like costs, core features, user interface, ease of installation, ease of use, and customer support to help you find the best value for your money. Feel free to navigate the article with the help of these links:
Comparison Overview
Monitoring the performance of your application is very crucial to maintain the quality of your software and its end-user experience. A company needs to test an APM software on various grounds to decide if it is perfect for their use-case or not. This article compares Datadog, New Relic, and ScoutAPM on six factors: core product features, pricing comparison, ease of use, third-party integrations, ease of installation, and customer support.
Datadog offers automation as one of the essential features as most tasks are controlled by artificial intelligence; hence you do not need to work so much to handle your application. But the use of automation can sometimes add to the noise in logging and alerts. New Relic is one of the oldest APM tools and gives so many features but it is failing to handle those features in a proper UI. It deteriorates the usability of New Relic and makes customers go for some other tool.
On the other hand, ScoutAPM is one of the best modern APM with the latest features like N+1 queries, memory bloat detection, and slow response queries. Scout APM also has a cleaner UI than the other two as it shows graphs and charts in a minimalistic manner, making it easy to navigate through the features.
For the in-depth comparison of the three, follow along!
Core APM Product Features
The range of features that a product offers is the first thing to take care of when making a choice. Core product characteristics mean what the product is known for and what it serves. An ideal APM's key features are project monitoring, error, problem tracking, and alerts management.
Datadog's Features
Datadog provides various core features like APM, integrations, logs, synthetics, etc. It seamlessly collects data and metrics of your entire application stack. It offers multiple integrations for SaaS and cloud providers, automation providers, source control and bug tracking, etc. You can track end-to-end requests of all distributed systems. You can also track, monitor, and troubleshoot your applications. Code instrumentation using various open-source libraries and graphs, bar charts, and alerts are available too.
Datadog makes user tracking very easy; you can monitor end-to-end user experience and track the points where users face issues. You can also screen record the steps to reproduce the bugs, which are immensely helpful during debugging. You can also view the impact of your application's metrics on your business in real-time.
New Relic's Features
New Relic has many core features and is one of the oldest tools of its kind. It collects data with the help of its out-of-the-box instrumentation and then filters using various other tools like XML-based custom instrumentation. For deep analysis of the data collected, you can add your custom attributes to each transaction event which helps in comparing the data on different attributes.
New Relic provides adequate guidance to the engineers and alerts on issues and application impacts and connects teams. Integration with various applications such as PagerDuty, VictorOps, Slack, etc., helps facilitate accessible communication among team members. It also notifies about the upcoming issues that may happen in the future, using the New Relic applied intelligence feature. But this feature can sometimes create problems due to irrelevant alerts and messages.
Scout's Features
Scout has multiple core features for which it is known. It features detailed transaction breakdowns, N+1 database queries, memory bloat,, auto instrumentation, database monitoring, alerting, deployment tracking, endpoints and background job performance, and much more.
In the graphs and charts available on the ScoutAPM interface, you can see the complete list of endpoints and their average response time. If you want to view a section in detail, you can simply click and drag, or if you are using mobile, use pinch and drag. Here you can compare the response time of different endpoints and check which have higher response times than average. It also highlights those calls.
Scout also integrates with PagerDuty, VictorOps, Slack, OpsGenie, and more.
Verdict
Consumers will usually consider the core features of an APM, so it needs to be unique and targeted. Datadog offers performance monitoring, logging, and synthetics, etc. It also helps in tracking end-to-end requests for distributed systems and handles tracking of your entire development stack. On the other hand, New Relic offers various standard features like performance monitoring, logging, and third-party integrations. Contrary to these two, Scout APM comes with many modern features like memory bloat detection, N+1 queries, etc. These features help you to maintain and monitor the entire application stack easily.
Pricing Comparison
Budget is among the essential things that you need to consider before shopping. Considering the wide range of features that each product offers, it is vital to look at the pricing before investing in it. Getting the right set of features and value for money is essential for a profitable business.
Pricing directly relates to the project's budget, so it is as essential as every other criterion. Datadog has separated all of its features in a modular fashion. They have listed different pricing schemes for each component, and you can choose which part or combination of features is suitable for your business and pay accordingly.
New Relic provides three clear plans for its tool, but they charge based on storage and data used. It is used to calculate the charges every time they use the tool. Scout APM has three simple plans directly based on resources offered with no hidden charges. You can try out Scout APM for free for 14 days without showing a credit card. So Scout has an upper edge when it comes to clarity and simplicity.
Ease of use
Ease of use determines how easy a product is to use for an average person. APM products are built keeping in mind that their users would be familiar with technical terms and tools. Any company with basic knowledge about performance monitoring must be able to use the product seamlessly. In this section, we will determine the ease of use for Scout APM, New Relic, and Datadog.
Datadog Usability
Datadog has a great set of features which makes it very usable. It provides monitoring of the whole application in a single place. You can have log management, application monitoring. They offer more than 350 third-party integration, which allows you to achieve more power for monitoring your application.
But there are some drawbacks of Datadog, such as unnecessary alerts for issues that are generally the fault of AI systems that generate alerts. Also, removing resources from DataDog is difficult and time-consuming.
New Relic Usability
New Relic covers various use cases for your whole application. It provides full-stack visibility into your application, which helps you manage your entire application from a single application and quickly troubleshoot any incoming errors. Although it is one of the oldest APM tools in the industry, it is not very beginner-friendly. It has tried to fit everything in one screen that makes the UI feel cluttered. For any beginner, understanding and navigating around the dashboard properly can be a hassle.
Scout APM Usability
ScoutAPM can be used for a variety of tasks. The APM simplifies the management of your complete application's performance. You can see which endpoints are slow to respond and which lines are causing memory bloat. ScoutAPM's GitHub integration options allow you to access the entire codebase from a single window and see which developer has authored which line of code.
Other than that, ScoutAPM's dashboard is very sophisticated, and everything is placed in the right place with easy navigation to other pages. More precisely, the charts and graphs it shows are very interactive, and it will take you merely seconds to understand those graphs. ScoutAPM is a fantastic asset for all of the companies that use it.
Verdict
Only giving a long line of features does not finish the job; a friendly user interface is also needed. New Relic provides many features, but it can do a better job at placing things appropriately in the UI. ScoutAPM and Datadog have also offered an excellent user interface for browser monitoring and frontend monitoring. You can use both of them in the browser as well. They provide real-time frontend monitoring, step recording, and issue resolution. The only problem with Datadog is that its AI features sometimes create unnecessary alerts, bothering a busy team. On the other hand, ScoutAPM has easily navigable features, clean graphs and streamlined dashboarding, which can enhance productivity.
Dashboards/UI
Good UI makes a good impression and helps convert visitors into customers quickly. If the user interface is not good and cannot even segregate things properly on dashboards, then all of the advanced AI and APM features will be of no use. So it is very crucial to give an attractive and, more importantly, easy-to-understand user interface and dashboard. In this section, we will be comparing the user interface for Datadog, New Relic, and ScoutAPM.
Datadog Dashboards
Datadog has a very advanced UI with a cool look. It helps in issues tracking, bug tracking, application monitoring, etc. It gives the option to search, delete, and add items as needed. You can customize your dashboards for different types of metrics, and they are called Screen boards for metrics like images, objects, and graphs. Other than that, Datadog provides other widgets also like AlertGraph, AlertValue, Change, CheckStatus, Free Text, and GoMap, etc. But one of the drawbacks is that many integrations are there by default, making the website slow.
New Relics Dashboards
New Relic is one of the oldest APM in the market and is embedded with many core features. They have most of the features on the dashboard and are left with almost no blank space. It makes the UI feel a little congested and makes it difficult for new users to adjust to the interface. Navigation is also very tough in this UI as the user has to find the relevant icons to navigate to a different section.
Scout APM Dashboards
ScoutAPM has a very modern-looking and clear dashboard. It has tables, graphs, charts, and various metrics on the dashboard, and still, it does not look crowded. All the icons and text used are self-explanatory. Other than that, you can see the response time for different endpoints on its dashboards, and when you click on any one of them, you can see the response time in detail. You can then use click and drag to magnify any area to see the various endpoints and their behavior.
Verdict
The user interface of any product is essential in determining how well its users adopt it. While the New Relic interface offers many things at once, DataDog manages to arrange elements quite well. Although, the default integrations of Datadog make the product a little slower than usual. ScoutAPM, on the other hand, offers one of the best-in-class user experiences in the APM market, with a clean and straightforward UI. So, DataDog and Scout are the way to go if you are looking for a clean, simple interface.
Integration Options
Third-party integrations involve a range of third-party applications that supply the APMs with additional features and reinforce the existing features. All performance management tools cannot give each feature that customers require, which is where the third parties come in. Let us now look at the third-party integrations and add-ons that each instrument offers.
Datadog Integration Options
Datadog provides more than 450 built-in integrations in various categories, including alerting, autodiscovery, automation, messaging, metrics, etc. These integrations help to support features other than those already provided by Datadog. The range of integrations is wide enough to cover almost any use case. Some example integrations are Active Directory, Adobe, Aerospike, Airflow, Akamai, Azure, Big Panda, Bonsai, Bugsnag, Cacti, Botprise, Catchpoint, etc.
New Relic Integration Options
New Relic offers more than 369 integrations. Some of the major categories of third-party plug-ins provided by New Relic are Amazon Web Service, Google Cloud Platform, Microsoft Azure, Infrastructure, etc. For an average user, the collection is more than enough to suit any on-the-fly needs.
Scout APM Integration Options
ScoutAPM offers a variety of integrations for a variety of uses. For instance, you can integrate version control via GitHub. You can access all of your personal Github repositories in one place. You can quickly figure out which developer is in charge of a particular line of code.
Scout also offers third-party error detection software such as Sentry, Rollbar, Honeybadger, and Bugsnag. Additionally, you have Slack for collaboration, PagerDuty, Splunk on Request, OpsGenie, Webhooks, Zapier for alerting and messaging, and Okta for SSO.
Verdict
Third-party integration provides users with more power and features than what a regular product can offer. DataDog and New Relic offer a long list of enough integrations to cover any possible use case. On the other hand, ScoutAPM provides few but essential integrations like Github, Rollbar, Slack, etc. All the integrations. All three tools offer what's necessary, but DataDog and New Relic beat Scout in terms of the range of offerings.
Installation
The installation process for software or hardware impacts the first impression in the minds of its users. You may not want to continue with the product if you are given a set of difficult-to-follow installation steps. Every product, therefore, aims to reduce the number of steps for its installation. Let us look at the steps of installation provided by each of the three APM tools.
Datadog Installation Process
Datadog is a program that runs on your host computer and sends data to the Datadog server. The data is then organized by Datadog, and you can analyze it using events or metrics. The Datadog Agent can be installed entirely on Amazon Linux, RedHat, CentOS, Debian, Fedora, SUSE, and Ubuntu. Still, it can also be run as a standalone package on Amazon Linux, RedHat, CentOS, Debian, Fedora, SUSE, and Ubuntu. The Datadog's DogStatsD agent can be installed with a single click. It is also available in 64-bit and Arms v8 architectures.
On the whole, it is tricky to set up Datadog because it has a lot of steps till installing Datadog's agent. At least once a month, or whenever a new patch or upgrade is published, you should modify the Datadog agent; otherwise, it may lead to security vulnerabilities.
New Relic Installation Process
New Relic provides the installation of its APM product for various programming languages like C, Java, .Net, Java, NodeJs, PHP, Python, Ruby. It also has a browser monitoring tool. The browser uses a Javascript snippet for instrumenting your app's web pages. For installing this, you have to select a deployment option. You can install infrastructure monitoring for Linux, Windows, Kubernetes, Prometheus, On-host integration, and Cloud. Additionally, you can monitor your mobile applications using New Relic too.
ScoutAPM Installation Process
ScoutAPM provides many installation agents, including agents for Ruby, Elixir, Python, NodeJS, and PHP. To set these up, you need to follow a few simple steps available in the documentation. ScoutAPM is a very lightweight application monitoring tool with lots of installation options. You can just embed the ScoutAPM agent in your application, and you are good to go.
Verdict
Installation should always be simple for any tool. It should not include many steps and assisted, or automated steps almost always make life easier for the customers. Setting up the DataDog agent involves a tedious and frequent process; hence you are more prone to errors. On the other hand, you can easily install New Relic's infrastructure monitoring on Linux, Windows, Kubernetes, etc. For ScoutAPM also there are easy installation steps for different types of languages. All in all, Scout and New Relic are easier to set up than DataDog.
Support
Once you start using a product, running into problems is a natural phenomenon. Good customer support is therefore critical. An active support team has a direct positive impact on the users. Support can be provided in multiple ways, including direct calls, emails, messages, documentation, a rich set of articles, or frequently-questioned questions.
Datadog Support
Datadog's support feature is available on their official website, which provides email, live chat, and in-app event stream messaging. They have also provided documentation for Logs, APM, Monitors, Integrations, agents, and API libraries. If you do not find any solution to your problem, you can raise a ticket by email.
New Relic Support
To access New Relic support, you have to choose one topic from agents and installation, New Relic platform, APIs, Alerts and Synthetics, Accounts, and Billing. For diagnostic and status updates, you can raise a ticket in the inbox. Other than that, they provide resources like blogs, articles, discussions with the tech community, and detailed product documentation.
Scout APM Support
Scout APM offers excellent customer service. You can find comprehensive error solutions in their well-laid-out documentation, but if you ever encounter an unsolvable error, Scout APM support is always available to assist you. Customers claim the customer service responds to their issues in a comprehensive manner. The Scout support is known to have a very quick response time.
Verdict
Support is an essential prerequisite for any tool. Users can need help both before and after purchasing a product. Datadog provides support via various channels like email, live chat, or in-app event stream messaging. It also has libraries, articles, and detailed documentation, which helps in solving any queries. New Relic has a category-wise support system like New Relic platforms, APIs, Alerts, etc.
On the other hand, ScoutAPM also provides support to their customers using email, call, slack, github and well-laid documentation and ensures that the customer does not wait for the response. The three products are closely matched in this department however Scout's support is identified by customers as a main reason in choosing Scout APM as their APM solution.
Get the APM Features You Love Without the High Prices and Unnecessary Features
Every business wants to monitor its products with the best tools in the market at the most reasonable prices. At the same time, it is very rare to find an affordable tool within your budget. If you want advanced features, then you may also have to pay more; otherwise, you have to compromise in parts.
ScoutAPM offers you most of the advanced features at a very affordable price. It gives you the best and most required third-party integration with the tools as well. It is undoubtedly the best among the other two APMs. It provides N+1 queries, memory bloat, slow database queries, etc.
You can try ScoutAPM for free for 14, even without a credit card. Feel free to check out scoutapm.com for more details.